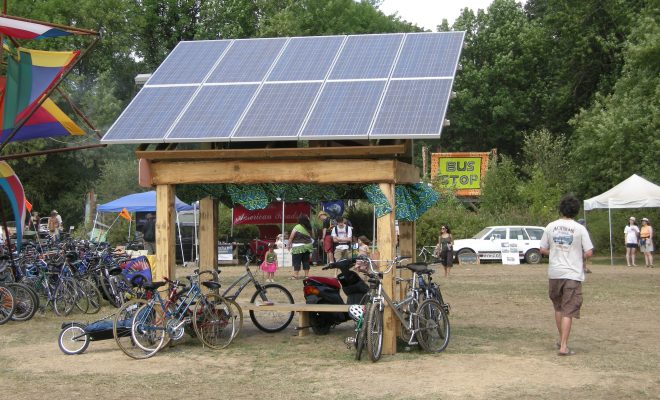 Peach Power
Peach Power is energy produced on the Fair site. Peach Power can move the
Fair toward energy independence. Peach Power helps the Fair abide by a fundamental guiding principle: reverence for the land, and for the planet.
The big news around Energy Park in 2007 is the dedication of the first phase of grid-tied solar electric power at the Fair. Since 1981, Energy Park has promoted awareness of innovatively-applied energy technologies and sustainable living.
In more recent years, the Energy Park Electric Company has installed solar photo-voltaic (PV) power systems at the Blue Moon, Hoarse Chorale, Shady Grove and Kesey stages. This year the new solar power system near the Fair entrance represents a big step in the Fair's quest to reduce its fossil fuel consumption and lighten its impact upon the planet.
The new solar installation is significant because it is tied into the electric power grid and therefore is able to put power back into the grid during the months when the Fair site is using very little power. We can "run the meter backwards" when we're not using power and offset a portion of the electric power that we draw from the grid during the weeks around Fair time.
In this first phase, we expect the ten 170 Watt PV panels to generate 1883 kilowatt-hours of electricity per year. This represents about 35% of the electric power consumed by the Fair's Main Camp last year. Eventually, we want to expand Peach Power so that our annual power production will exceed our consumption.
The Peach Power Project requires a sizable financial investment at the outset before we can reap the benefits. The Fair has dedicated funds to begin our journey away from fossil fuels. If you would like to contribute to these efforts, you can make a donation to the Peach Power Fund.
Head to Energy Park and ask how you can help. While you're there, learn about everything from transportation alternatives to home hydro-power from the knowledgeable, hands-on community you'll find there.
Check the Kesey stage schedule for presentations by people who are living the sustainable life, as well as for great music. Have fun! Learn! Power to the Peaches!